Creative & Design Rates FY2010/2011
This module benchmarks the 2010 Australian communications industry charge-out rates in the category of Creative & Design. It covers market averages for common agency charge codes for a range of agency types. The report will supply you with standard rates for most services available within this category in the Australian Advertising & Design market.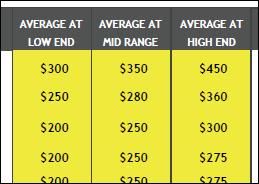 Charge codes detailed in this module include:
- Creative Direction (ECD & CD)
- Concept Development
- Art Direction and Copywriting - Senior & Mid Weight
- Design - Senior, Mid Weight & Junior
- Creative Traffic Management
We also provide analysis of trends in the market:
- Which rates are falling and by how much since 2009
- Which rates are rising and by how much since 2009
- Why decreases or increases are happening.
- Future agency charging trends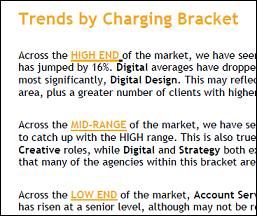 How to use this report to benefit your business:
- Plug your revenue leaks - review your rates against market average and correct any that are too low.
- Negotiate better rate cards – identify new charge codes to include in future negotiations.
- Become more competitive – pinpoint where you could offer persuasive discounts to close deals.
- Be ahead of trends – see where other agencies have been able to break with industry tradition.
Here's what to do after you download it:
1. Review the report and compare the averages against your own agency charge rates.
2. Decide which rates you will increase or decrease.
3. Execute changes – renegotiate client rate cards, train staff who estimate/quote work, etc.